Our Awards and Credentials
Darwin Pet Spa has fully trained and qualified staff who continuously strive to offer the best dog and cat grooming service in Darwin.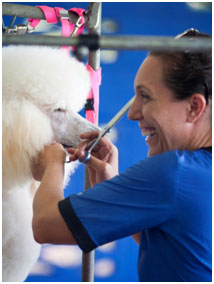 Darwin Pet Spa is a registered business, a proud member of the Pet Industry Association of Australia (PIAA) and an active member of the National Cat Groomers Institute of America (NCGIA).
Your groomer is certified in canine and feline care and has undergone training by International Certified Master Groomer (judge and certifier) Christine Speerin at her world renowned training school The Grooming School in Australia.
Owner Michelle Auld underwent rigorous training and exams to become one of only four Certified Feline Master Groomers in Australia under guidance of the National Cat Groomers Institute of America.
Michelle has completed an Advanced Grooming Seminar in two-day Salon Free-Style Mixed Breed Workshop she hosted for groomers in Darwin under the training of Australia's International Certified Master Groomers Melanie Newman and Nicky Renwood.
Awards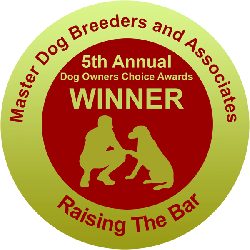 Michelle was crowned the Best Canine Groomer of the Year in Australia at the 5th Annual Dog Owners Choice Awards for the Master Dog Breeders and Associates.
Michelle attended the gala event at Chifley at Lennons in Brisbane to accept the award, which now sits proudly on the wall in our grooming studio.
This is an annual award and is a very much sought after award with many groomers vying to win it.
Nomination for this award can only be made by a third party, and Michelle appreciates the time and effort her clients went to to nominate her.
Certification as Certified Feline Master Groomer
Michelle underwent rigorous training in South Carolina, America under the guidance of the National Cat Groomers Institute of America to become one of only four Certified Feline Master Groomers in Australia. Michelle is the only Certified Master Cat Groomer in the Northern Territory.
Find a match
How will they look
Testimonials
What our clients think of us.
Author: Tracy

4th March 2013

One very happy pommie and happy mum,

great job Michelle....

Author: Peter & Bronwyn

14th March 2013

He looks (and smells) great. No more tangled matt to deal with and one very happy BC. Now can you get him to stop training us to throw sticks?...

Author: Deborah

7th April 2013

Just want to say a big thank you from Ginger and I.

She looks absolutely gorgeous and she smells just like a princess. Was worth every cent.

Thank you so much for looking after and taking care of Ginger today. See you in 2 – 3 months.

Regards Deborah and Ginger ...

Author: Marg

22nd May 2013

FiFi looks fabulous after her trim and groom and she has a little extra bounce in her step. Thank you for looking after my baby....

Author: Alison Hucks

5th June 2013

Can't thank Michelle and crew for all they do for Savvy (& me!!).

Savvy is the best groomed and most happy dog due to the loving care and attention that Michelle provides. Not to mention how much fun she has whenever she goes!

Michelle goes above and beyond to take care of us both.

AND a HUGE CONGRATULATIONS to Michelle for being awarded Australian Groomer of the Year for the ...

Author: Jessica

15th October 2013

Thank you so much for taking care of little gizmo today. He looks so much cleaner and the tidy up work you've done will minimize the maintenance I'll have to do.

Loved the cute neckerchief he came out in

I will highly recommend your services to my friends. Excellent value and excellent results. ...

Author: Lynn

3rd June 2014

Ah yes they are beautiful and clean when they get picked up.....such princess's, smells lovely, all clean, lovely bandana or bows, all excited to see us then as soon as she gets home roxi she jumps in the pool..... I come home to a Mutt a bit cleaner than when I dropped her off.... Oh if only you could be afraid of the pool like Rosie..... I wish....l.!!!!...

Author: Katie

15th August 2014

Thanks Michelle aka Vidal!

You have done a wonderful job with Mr Barney and your advice for managing his coat in between his visits has been invaluable.

Thanks for consistently providing such high quality doggy spa/grooming services. We are so fortunate to have such a skilful and caring groomer in Darwin!

Happy to recommend you as is your favourite Mr B! Xxx...

Author: Peter Russell

9th December 2015

Neo is very pleased with his new look. Stands two inches taller and is ten degrees cooler. A very smart cut indeed for a poodle puppy....

Author: Olivia McClelland

18th May 2016

Michelle and the team are amazing! My little maltese pomeraian always is so well looked after and comes out looking very fabulous! Always the talk of puppy play day ;).

Thank you!...

Author: Brendan Muldoon

14th November 2016

Just wanted to thank you for grooming Teddy today. He looks amazing, we love what you did. Thank you very much!...

Author: Josephine

3rd December 2017

What can I say to express the gratitude I felt on coming home to my beautiful 14 month old Border Collie she was gorgeous...not like before with all the dreadlocks! Simply amazing can't thank you enough from all our family. ...
Random Images
A couple of random photos from our gallery.